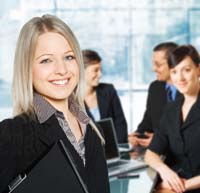 At Training in Business we offer a full range of Online Training Courses
through our state of the art LMS or Learning Management System.
Using our web based LMS or Learning Management System all you need is a web browser and an LMS account and an individual or staff member can login,
view and complete any of our Business Training Courses in their own
time and at their own pace.
The key benefits to using our LMS to manage your Online Business
Training needs are as follows:
Benefits to you ( The Employer )
With our LMS you can access our Training Courses 24/7 from any
location once you are connected to the Internet.
You can learn at your own pace, stop and resume from where you left off.
If you have employees you can train your Staff via our LMS at a fraction of the cost
compared to traditional instructor lead Training.
Benefits to employee's 
Employees can train away from the office and in their own time.
They can train at their own pace going back and forward through
the training content via our LMS
They can benefit from new skills and knowledge that will also
help improve their performance, loyalty towards your business and overall moral.

Other benefits to your Business: 
Save up to 80% on your Business Training costs through Online Training using
our Learning Management System
Continuous business training managed through our LMS helps in maintaining
a competitive edge for your Business
WIth our LMS you are providing a key training tool for your staff to upgrade
their knowledge and skills and apply them in the Workplace.
Investing in Online Training leads to increased Employee
retention due to improved Job satisfaction and morale
A highly-trained Workforce is a productive Workforce that Produces increased Profits.
Improved customer service with more knowledgeable and helpful staff
We can see from the above advantages that using our LMS will give you
and your Business the Tools and resources to Manage your Online Business Training needs.
Our Courses
See our Full range of Online E-Courses are here

"E-learning is a more Cost effective & Flexible Training Solution for your Business"