Sales and Customer Service is one of the most challenging and trying areas of business
and can be difficult for some to master.
The courses in this bundle will help anyone wanting to get into sales or customer service
to be able to learn the basics and How To's in order to do so with ease.
Topics Include: The Art of Planning and Completing a Successful Meeting; How to Negotiate
with Potential Buyers; Building Long Term Relationships with Your Customer: and the Art of Closing a Sale.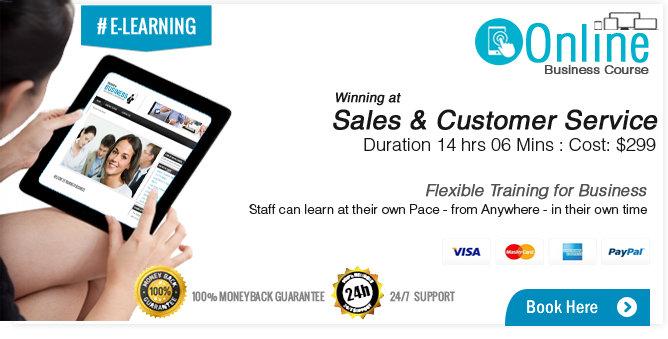 Courses in this bundle
Build Long Term Relationship with Your Customers
Art of Closing Deals
Grooming and Attitude for Success
In the Line of Fire
Managing Time Successfully
Meeting Groundwork and Meeting Rules
Meeting Techniques and Follow-up
Negotiation
Planning Your Sales Offer
Powerful Presentation
Reaching Decision Makers
Search and Identify Your Prospect
Back to the full range of courses here
Contacting Us
If you would like further information about any of our courses,
then please complete our online enquiry form here